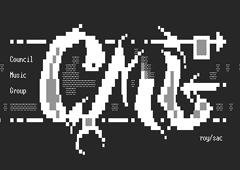 | | |
| --- | --- |
| Active from | 1999 — Still active |
The Council Music Group (CMG) was born as an offshoot of The Council, a german warez group dating back to 1995. CMG was created in June 1999 and initially consisted primarily of Council members.
While the majority of members were German, the group released music from all over the world. Initially much of their output was older albums, although the group would occasionally score pre-releases later on.
CMG was one of the few groups known less for their output and more for their contribution to the scene in other ways. Perhaps due to strong ties to traditional warez, many members were talented programmers who would share their self-created tools with the rest of the scene. Most famously, Morgoth - a CMG member from its inception - created his own scene-oriented mp3 tagging tool (Morgoth's MP3 Releaser) which became the most popular tagger within the mp3 scene. CMG/Council member Werner & Tardy (also the former leader of TDU-Jam, Pentagram & Genesis) famously created Dupecheck/Checkpoint in 1997 which quickly became an important resource for the scene.
The group continues to operate to this day.